OCTOBER EVENTS
Friday, October 10
Nudie Nubie
Hosted by Foxy Tann, Victoria DeVille & Red Bone
Saturday, October 11
Sparkle
Hosted by Mary Brewster

36 shows. 70 performers. $4121.00 raised for 19 organizations. Sparkle.
Happy Anniversary to us!
It's hard to believe we've been "sparkle-ing" for THREE whole years! Time flies when you're having fun, working with some of the most sparklelicious entertainers in (and outside of) the Twin Cities!
Join Mary Brewster on Saturday, October 11th, 10pm, as we present and celebrate "1-2-3"; the THIRD Anniversary of SPARKLE! For this special show, we've gathered some of our favorite entertainers from the last three years, who are ready to twirl and spread their sparkle!
Friday, October 17
Dragged Out
Hosted by Miss Trish
Saturday, October 18
Drag 'n Dance
Hosted by Esme Rodriguez
Friday, October 24
YOLO
Hosted by Mia Dorr, Aimee Laurann & Jerry Parker
Saturday, October 25
45th Anniversary Party
The Town House Bar has been supporting and serving the GLBT community for 45 years!! We thank you all for supporting Saint Paul's oldest gay bar and making it what it is today! To celebrate, we have many things going on throughout the day! Plus we have an amazing show in the evening with special guest performances!!
Old Timer's when doors open at 3pm! Dj will be playing some of your favorite oldies!
Drink specials!! $1 and $2 shots! $4 Long Islands and Margaritas!!
YOLO will going on from 5-6:30pm!
Larry's famous buffet will take place after YOLO
3-8pm - (weather permitting) Jen Mink, a St. Paul officer with St. Paul Police Mounted Patrol Foundation, will have 2 of the trained horses in the parking lot for people to see/admire. They will also have t-shirts, hoodies, hats and calendars for sale. We will be raising money throughout the day for the police to supply their horses with saddles, training equipment, and training for officers and their companion horses.
9pm - In the Lounge, Lori Dokken will be playing!
Now onto the main event! The show will start at 9:45pm! We have a great cast of performers!!
Lily White
Nadi A'marena
Mercedes
Damien D'Luxe
Dotti West -Miss Toast of the Townhouse 2014
Jamie Monroe
Victoria DeVille
Xavier
Sweetpea
Our host of the evening will be the one and only, Mary Brewster!! After the show, you will have plenty enough time to get your dance moves on the floor!!
Friday, October 31
Over My Dead Body!
The Townhouse & Smitten Kitten Present: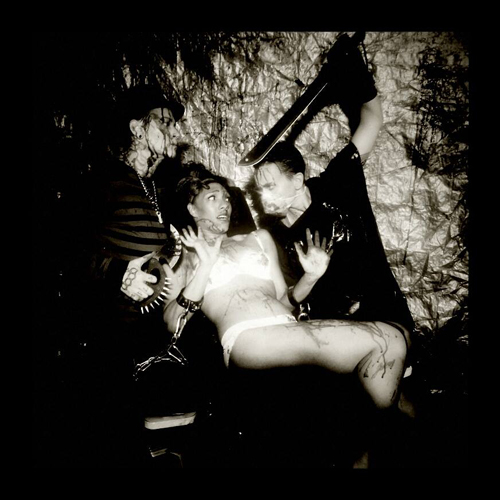 Ghouls, Gobblins, and Witches delight- This party will fill you with fright! The reign of terror will begin at 9, dragging you kicking and screaming until the very end!
$6 Cover
Spellbinding melodies will fill the night. On the 1's and 2's is DJ Shannon Blowtorch so, you know it's done right! Guiding you through this exquisitely terrifying night is the breathtaking Nadine DuBois. The ensemble here will assault your senses, with their voodoo, hoodoo, hexes and vexes!!
Nocturna Lee Mission
Vivienne Le Détruire
Xavier
Damien D'Luxe
Sweetpea
Potions and Elixirs on special just for you:
$4 Long Islands
$4 Margaritas
$3 Dr. McGillicuddy Shots(peppermint, cherry, or Fireball)
$2 Slippery Nipples
$1 Kami Shots
FREE Jello Shots!!
Drape yourself in your most ghastly attire for, when the bewitching hour(Midnight) arrives the COSTUME CONTEST begins!
1st Place - $200 CASH & $150 Gift Certificate from Smitten Kitten!!
2nd Place - $100 Gift Certificate from Smitten Kitten & $75 bar tab from the Townhouse!!
3rd Place - $50 Gift Certificate from Smitten Kitten & $25 bar tab from the Townhouse!!
FREE PARKING on the west side of the Townhouse AND they are located right off the METRO Green Line
SPECIAL EVENTS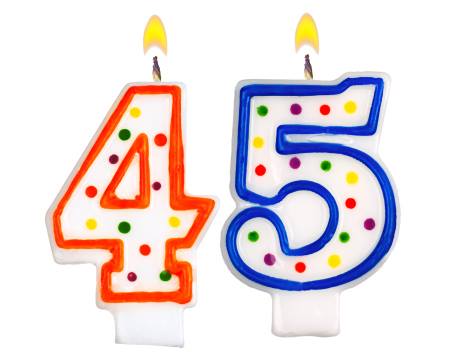 OVER MY DEAD BODY!
Friday, October 31,
Mark your calendars for Halloween!! Townhouse and Smitten Kitten present Over My Dead Body!! Dj Shannon Blowtorch will be spinning the tunes! Throughout the night, there will be special performances from some of our top talent!! Plenty of drink specials and there will be a costume contest with fabulous prizes!! Something you definitely will not want to miss!!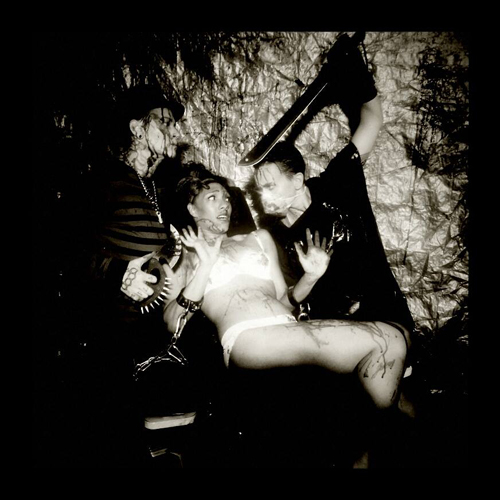 EVERY WEDNESDAY
Pumps & Pearls Drag Revue
with your hostess, Miss Lily White
No Cover. Free Parking. Drink Specials. Karaoke in Back. DJ and Dancing after the show.
Triangle of Hope's 19th Anniversary Ex-drag-a-ganza!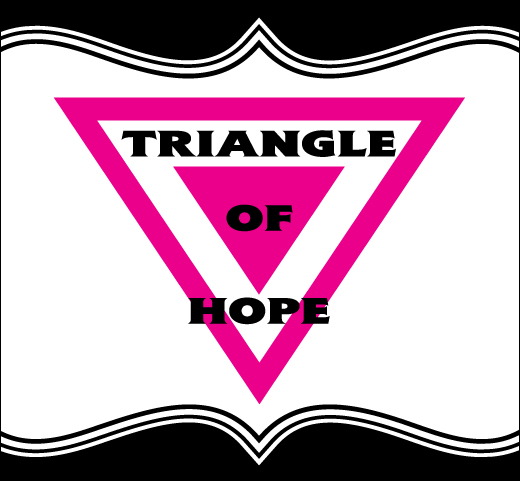 It seems hard to believe: Triangle of Hope is turning NINETEEN (!) so we're celebrating our favorite way: by getting the Triangle of Hope "gang" together and hosting an "19th Anniversary Ex-drag-a-ganza" to benefit Clare Housing on Sunday, November 16th, 5pm, at the Town House Bar!
We'll have the BEST in Twin Cities entertainers on hand to whoop it up, and because it's Triangle of Hope, EVERY DOLLAR raised that afternoon will benefit CLARE HOUSING! Of course we'll also have great baskets for raffle, and it just wouldn't be a Triangle of Hope "ex-drag-a-ganza" without a few 50/50's!
And yes, honey, we DO know that the Vikings/Bears football game is that day; don't worry....the show will not start until the game is over!
Hosted by: Mary Brewster and Featuring: Your favorite Triangle of Hope entertainers from the past NINETEEN years, including:
Barbara Gordon
Burberry Vuitton
Dotti West
Dramatica
Ginger Snap
Gucci Velour
Lady Katie
Mia Dorr
Ravalution
Sweet Lilly Bee
Tonia Lee Collins
Uppen Adam
Plus other special surprise guests!
IN THE NEWS!
THANK YOU to our friends Cory and David at Twin Cities Gay Scene for featuring the TOWN HOUSE BAR on the cover of their latest edition! What a wonderful anniversary gift! Be sure to check out Mary Brewster's EXCLUSIVE interview with Holly Monnett!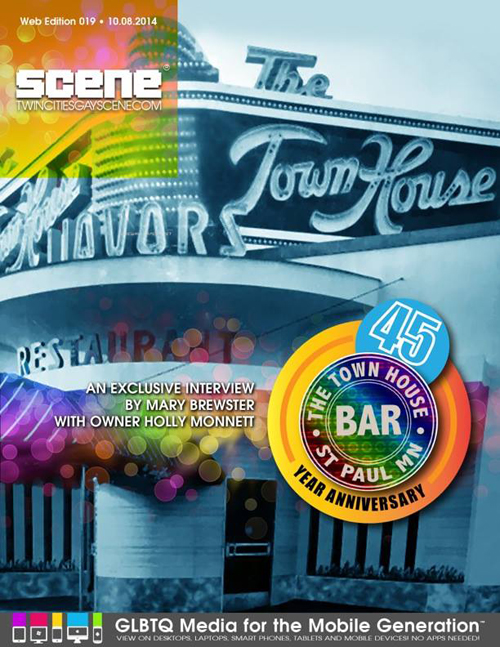 CONGRATULATIONS!
Introducing Dotti West, Toast of the Town House 2014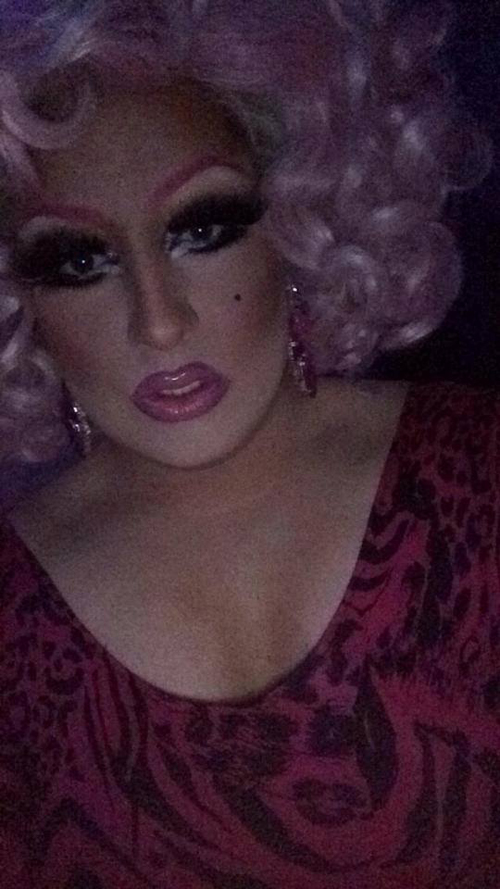 FOLLOW US ON FACEBOOK
FOLLOW US ON TWITTER
Tweets by @TownHouseBarStP
SPONSORS